Statue in situ
Found in a wide trench to the west of Tomb 1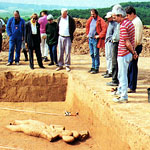 Local sandstone
life-size -- 1.86 m pres. H
after Herrmann 1996, 334 fig 2
Excavating the statue, 1996
Armor and shield are clearly visible; rear view not yet published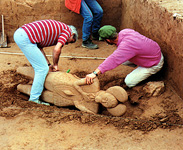 after Herrmann 1996, 334 fig 3
Detail of statue

Bearded head of statue with "Blattkrone" -- wreath of leaves very common on La Tène A heads, usually interpreted as divine. From the photos, the headgear looks to me to consist of two parts: the teardrop-shaped appendages to the sides, and a helmet of LTA type on the head. Note the torc with 3 balusters, bracelet, armlets and ring. The staring eyes and downturned moustache result in an extremely grim expression.
after Herrmann 1996, 333 fig 1
The proportions and pose of the figure are reminiscent of those of the late-Hallstatt period "warrior" from Hirschlanden. The Glauberg figure is far from naked, however; he is clad in armor, provided with a shield and plenty of jewelry. His elaborate finery places him closer to the "warrior" from Capestrano than the naked Hirschlanden figure.
The similarity of the parure to that discovered in Tomb 1 in the same tumulus has led to speculation that the statue might represent a portrait of the Tomb 1 occupant or of another Keltenfürst buried in the tumulus. We have no reason to believe that the Celts practiced portraiture, however; indeed, their art appears to be consistently non-naturalistic. In addition, the Glauberg statue's head is flanked by two protrusions of a type usually associated with non-mortal figures, e.g. the four-sided pillar from Pfalzfeld, or the Janus-headed sculpture from Holzgerlingen. I am not convinced that the Glauberg statue represents a mortal, much less as a portrait.