Hochdorf: Bronze Cauldron.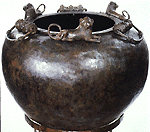 View of reconstructed bronze cauldron.
Height: 80 cm (without lions).
Diameter: Ca. 104 cm. Capacity: 500 liters.
Reconstructed stand made of wood and iron (Krauße 1996, 28 ff., 57-60)


State of cauldron during excavation
After Krauße 1996, fig. 4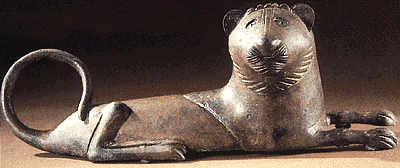 View of Celtic lion ("the rat").
After Biel 1985
Lions:

Cast bronze.
Length 33.8 cm (1), 35 cm (2), 34.4 cm (3).
Lions 1 and 2: probably made in Western Greece (Lucania or Campania?).

Date: Cauldron: Ca. 530 (between 540 and 520) BCE. Celtic Lion 3: Ca. 520-500 BCE.

The cauldron stood to the north of the bronze couch on a locally-made stand of wood and iron. Originally made in Magna Graecia, it was altered considerably after having been imported into the Celtic lands. Three handles with spool attachments and a third, locally-made lion were attached to the rim. It contained local honey-mead, traces of which, and of the pollen grains in the honey, have been preserved. (Gauer 1985, 125 ff.)
Stuttgart: Württembergisches Landesmuseum.
---

Home
---