The West Augusta Guard's Trip to Charlestown
---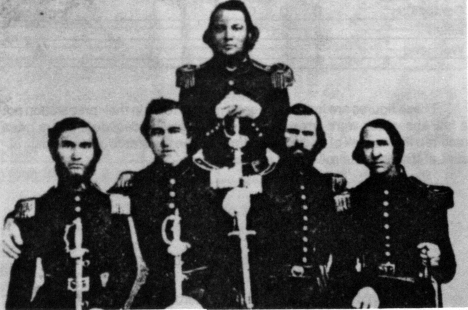 ---
In early 1858, residents of Staunton debated forming a local militia company, and a few months later the West Augusta Guard, a division of the 160th Regiment Virginia Militia was born. Its first captain, William H. Harman resigned in July, to become a brigadier General in the militia, and was replaced by William Smith Hanger Baylor, a young local lawyer. The picture above shows the West Augusta Guard's officers: Seated, left to right: Lt. James Bumgardner, Jr.; Lt. Henry K. Cochran; Lt. Thomas J. Burke; Lt. James H. Waters. Standing, Capt. W. S. H. Baylor.
In November 1859, reports of possible trouble in Charlestwon, while John Brown awaited trial, prompted the 47 members of the Guard to travel North and offer their services as peacekeepers. After reaching Alexandria on November 21, they were told their services would not be needed, and they returned home the next day. Less than a week later, however, they were again summoned to Charlestown, along with members of Staunton's newest militia company, the Staunton Artillery. Baylor, ill in New York with typhoid, turned command over to Lt. Waters.
The December 13 Staunton Spectator published a letter written by the members of the West Augusta Guard, describing their experiences in Charlestown. As one might expect, it contained a detailed account of John Brown's hanging. They returned to Staunton on December 14, to popular acclaim.
---

Return to the John Brown Homepage