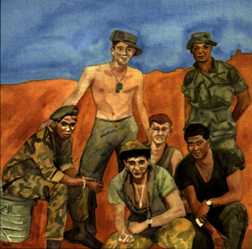 Interrogations
Leroy V. Quintana
102 pages, perfect bound, paper, 1990; $10.00; ISBN: 0-9628524-5-7.
"The characters in Interrogations have been given genuine depth, and in a few succinct lines they emerge as sharply defined human beings, not as caricatures."
----Jon Forrest Glade, American Book Review (April-May 1994)

"In a time of long, overly researched discursive narratives constructed on borrowed pathos, Leroy Quintana has given us this tapestry of small moments that explode and fragment. His poetry seems to have been written through old eyes, a mature heart, with a perspective untouched by the contemporary flare for ego and surface intellect. A youthful telling sparked by a need, however, is what gives these earned words and revelations their energy and weight. These are poems where the various characters walk out of the white space to assume a real life. There's flesh on each metaphor."
----Yusef Komunyakaa, author of Dien Cai Dau
The cover of this book features a watercolor made from a snapshot of Quintana's Long Range Reconnaissance Patrol. The short poems inside make art of the brief glimpses of his tour in Viet Nam. The collection of sharp, sudden poems from Viet Nam mounts to a longer moral address to former President Bush written just after the Gulf war. Introduce your students to the details of jungle fighting, the perspective of a Chicano soldier, and the mature view of a poet who was a soldier once.