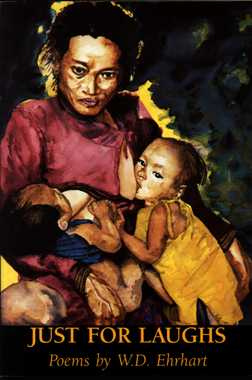 Just For Laughs
W.D. Ehrhart
84 pages, perfect bound, paper, 1990 $10.00; ISBN: 0-9628524-0-6.
You can order this text directly from us. Make check payable to Viet Nam Generation, PO Box 13746, Tucson, AZ 85732-3746. Purchase orders are accepted from schools and libraries, and can be emailed or faxed to 520-578-9208.
"W.D. Ehrhart continues to deserve recognition, perhaps more than any other, as the Vietnam author in his generation who in fact made the idea of such a thing possible in the first place."
----Philip D. Beidler, Re-Writing America: Vietnam Authors in their Generation
"Above all, Ehrhart's poems warn, we are accountable to future generations; we have a choice about which values we will pass on and which stories we will tell."
----Lorrie Smith, Fourteen Landing Zones: Approaches to Literature of the Vietnam War

"Ehrhart's voice may possess matter-of-fact rhythms, but that quality masques a content which bristles with intelligence and finally is downright startling."
----Michael Stephens, The Dramaturgy of Style
"Ehrhart's poetry seems to catch in its flat cadences a tough realism and, through it's accessible and direct mode of address, a genuine voice of conscience."
----Alf Louvre and Jeffrey Walsh, Tell Me Lies About Vietnam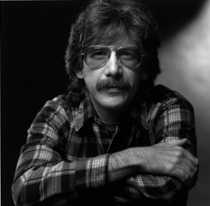 By his writing and editing, W.D. Ehrhart made it possible to be a Viet Nam war veteran writer. By his continued work, Ehrhart has become the conscience and inspiration for those who have been sparked into literature by seeing the American war machine on parade. Just For Laughs brings poems addressing Ehrhart's return to Viet Nam, his marriage and family life, and the American wars in Central America. The final poems of this book summon Erhar't's nightmare past as a Marine in Viet Nam, and evoke his pessimism about the future, from a sense that embraces the present with care and fear.

W.D. Ehrhart, born in 1948, grew up in small towns in Pennsylvania. He enlisted in the U.S. Marine Corps in 1966 and fought in Vietnam, earning the Purple Heart medal, two Presidential Unit Citations and the Vietnamese Cross of Gallantry. Subsequently, he earned a B.A. from Swarthmore College and an M.A. from the University of Illinois at Chicago. He has received grants and awards from the Academy of American Poets, the Mary Roberts Rinehart Foundation, the Pennsylvania Council on the Arts, Veterans for Peace, Inc., and the Vietnam Veterans of America Foundation. He has taught at both the high school and college levels, most recently as Visiting Professor of War and Social Consequences at the William Joiner Center, University of Massachusetts at Boston, and at La Salle University. He has read and lectured widely in the U.S. as well as Austria, Britain, Canada, Germany, and Vietnam. Currently, he lives in Philadelphia with his wife, Anne, and daughter, Leela.