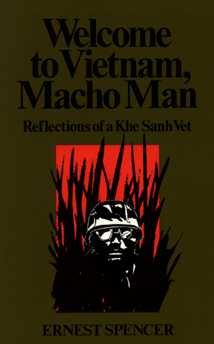 Welcome To Vietnam, Macho Man
Ernest Spencer
180 pages, case bound, cloth, 1991 $30.00; ISBN: 0-9618529-0-9.
First Edition.
You can order this text directly from us. Make check payable to Viet Nam Generation, PO Box 13746, Tucson, AZ 85732-3746. Purchase orders are accepted from schools and libraries, and can be emailed or faxed to 520-578-9208.
"Welcome To Viet Nam, Macho Man [is like] being right there, reliving it. I found it to be personally helpful and healing; it is well written, easily read, and powerful. Ernie Spencer has made a very valuable contribution, telling the story as it really was in terms of how we felt at the time."

----Ray Stubbe, Valley of Decision

A Korean-American's personal narrative of the siege of Khe Sanh, where he served as a Marine captain. Spencer's ferocious wit evokes the Marine Corps spirit as forcefully as Gustav Hasford's The Short Timers, and lays bare the psychic costs of unending belligerence. We bought up the remainder of the Corps Press print run when Presidio Press had to abandon the book. We wanted to make sure this unique and outstanding soldier's story would remain available.