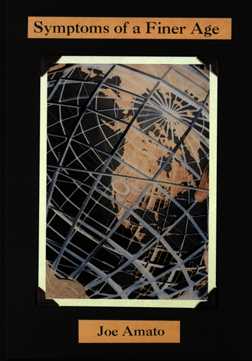 Symptoms of a Finer Age
Joe Amato
64 pages, perfect bound, paper, 1995, $12.00, White Noise #5; ISBN: 1-885215-12-6.
You can order this text directly from us. Make check payable to Viet Nam Generation, PO Box 13746, Tucson, AZ 85732-3746. Purchase orders are accepted from schools and libraries, and can be emailed or faxed to 520-578-9208.
"Joe Amato proposes a poetry of discourse: he thinks, talks, and will try to persuade sometimes. The work is alive with intelligence.... For most of this century poetry has been coy about speaking its mind, and there have been persistent rumors that poetry has nothing to say, that it is a great former of forms but silent. Amato's poetry speaks, and it is important that we listen."
----Don Byrd
| | |
| --- | --- |
| | Joe Amato teaches English and composition at the Illinois Institute of Technology. His technical expertise is combined with passion, a fine ear for language, and a strong sense of social justice. Reading Amato's work is like watching a skilled professional put on a stunning display of 4th of July fireworks--even the most cynical can't help being taken in by the magic. |