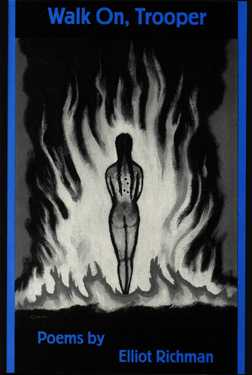 Walk On, Trooper
Elliot Richman
92 pages, perfect bound, paper, 1994, $12.00, White Noise #2; ISBN: 0-9628524-9-X.
You can order this text directly from us. Make check payable to Viet Nam Generation, PO Box 13746, Tucson, AZ 85732-3746. Purchase orders are accepted from schools and libraries, and can be emailed or faxed to 520-578-9208.
"Walk On, Trooper is one fucking real book. A straight walk into the beast with eyes wide open; it is the best--and I mean the best--book I've seen on the Viet Nam war. He went into hell to write it."

----Bill Shields, author of The Southeast Asian Book of the Dead and Human Shrapnel

Elliot Richman published his first poem in 1984, when he was forty-two years old. Since then, his work has appeared widely in the small press. In 1993 he was awarded fellowships for his poetry by both the National Endowment for the Arts and the New York Foundation for the Arts. Asylum Arts has published his two previous collections, The World Dancer and Honorable Manhood: Poems of Eros & Dust.