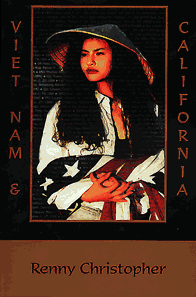 Viet Nam and California
Renny Christopher
96 pages, perfect bound, paper, 1998, $12.00; ISBN: 1-885215-13-4.
You can order this text directly from us. Make check payable to Viet Nam Generation, PO Box 13746, Tucson, AZ 85732-3746. Purchase orders are accepted from schools and libraries, and can be emailed or faxed to 520-578-9208.
"Renny Christopher's poems about life as a California workingman's daughter, life as a Vietnam veteran's wife, and simply about life, are fierce, hard-hitting, and moving. I enjoyed them very much."
----Diana O'Hehir
"Renny Christopher offers eloquent testimony to the truth that you didn't have to go to Viet Nam to get burned by the Viet Nam war. Viet Nam & California is the war at home; a war encompassing family, friends, and lovers, race, class and politics; a war that never ends; the struggle to make sense of the public and private hurts that wound a caring heart."
----W.D. Ehrhart
"Renny Christopher has given poetic voice to those of us--women--who fought the Viet Nam war from the distance of home. Her poems are filled with the pain of empathy. Reading Viet Nam & California can help guide us as we struggle to come home from wars."
----Maxine Hong Kingston
Christopher's poems are strong and straightforward. They tell the story of a woman's coming of age in the period during and after the Viet Nam war, and of her relationships with a few Viet Nam veterans. These unflinching portraits are grounded in Christopher's solid sense of herself as a woman with working-class roots.