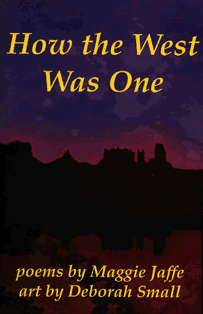 How the West Was One
Poems by Maggie Jaffe.
Art by Deborah Small.
96 pages, perfect bound, paper, 1997, $12.00; ISBN: 1-885215-19-3.
You can order this text directly from us. Make check payable to Viet Nam Generation, PO Box 13746, Tucson, AZ 85732-3746. Purchase orders are accepted from schools and libraries, and can be emailed or faxed to 520-578-9208.
"How the West Was One lifts the veil of history and reveals the corruption, greed and arrogance that hide behind noble-sounding phrases: Westward Expansion, Manifest Destiny, the Monroe Doctrine, the Good Neighbor Policy, and the New World Order. Maggie Jaffe's poignant poetry transcends propaganda and didacticism and shows the impossibility of separating the political from the personal."
----Jon Forrest Glade, Photographs of the Jungle
"In How the Wet Was One, Maggie Jaffe, one of the most clear-voiced, clear-sighted poets of our time, exposes the truth behin the media presentations which shape young mind into the bog of uncritical, unemotional, cultural and racially supremacist thinking. This book should be in motel rooms, instead of Gideon's Bible, to help citizens see the tangled web they helped to weave."
----Belinda Subraman, The Gulf War: Many Perspectives
Maggie Jaffe lives in San Diego with her cat, Tosh. She teaches at San Diego State University and is art editor of Fiction International. Her other books include 7th Circle, Continuous Performance, The Body Politic, and (with Deborah Small) 1492: What It's Like to be Discovered.
Deborah Small lives in Rainbow, California, with her three dogs. She is an associate professor of Visual and Performing Arts ad California State University at San Marcos. She has exhibited her work internationally.