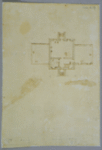 Monticello I
---

Description: Study plan for first version
Date: Before 1770
Medium: Ink & pencil
Support: Laid paper, no watermark (Paper CX)
Dimensions: 16.8 cm x 11.4 cm (6-5/8" x 4-1/2")
Condition: Linen backed, large dark stains in mid-sheet, medium stain in upper left quadrant, mottling throughout sheet (heavier on bottom half than on top half) probably from old water damage
Author: Jefferson
Owner: MHi
Classification: N-26 , K-119 , M
Publication History:
Author: Kimball
Title: Thomas Jefferson Architect
Date: 1916
Note: Kimball originally believed this to be a drawing of Brandon, Benjamin Harrison's house.
Author: Nichols
Title: Jefferson's Architectural Drawings
Date: 1984
Note: Nichols notes that Kimball told him this was Monticello, not Brandon.

Commentary: Nichols notes that this was traced from Robert Morris, "Select Architecture" (London, 1757)
---
Drawing
Description: First floor plan for Monticello I
Location: Upper-half of page
Features:

Chambers
Stairhall
Fireplace
Windows
Portico with four columns
Exterior stairs

Text:

Description: Room measurements
Location: On plan
Author: Jefferson
Transcription:

West and East Chambers 17 x 17
North Chamber 24 x 18
Southwest Chamber 7 x ?
---
Text
Description: Calculations
Location: Bottom of page
Author: Jefferson