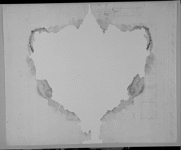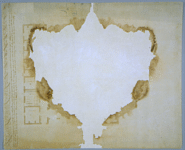 Monticello Dependency Plan
---

Description: Plan and notes for dependency
Date: 1768-1770
Medium: Ink
Support: Laid paper with watermarks (Paper AG)
Dimensions: 36.8 cm x 45.6 cm (14-1/2" x 17-15/16")
Condition: Silk encapsulated, very badly damaged, large loss area (approx. 10" x 11") in mid-section extending to top & bottom edges at center patched with Fabriano paper (20th c.), dark fluid and mildew stains at edges of loss area, light stain spots along upper right edge, tears near top and bottom edges at center, minor losses at lower right corner and center top edge, brownish discoloration along bottom edge, discoloration along top edge due to dirt build-up
Author: Jefferson
Owner: MHi
Classification: N-32, K-10
Publication History:
Author: Kimball
Title: Thomas Jefferson Architect
Date: 1916
Note:
Author: Nichols
Title: Jefferson's Architectural Drawings
Date: 1984
Note:
Author: Kimball
Title: Jefferson and the Public Buildings of Virginia I. Williamsburg, 1770-1776
Date: 1949
Note:
Commentary:
---
Drawing
Description: Plan of dependency
Location: Top of page
Features:
Text:

Description: Descriptions and dimensions
Location: On drawing
Author: Jefferson
Transcription:

Laundry
16f
Dry Well
23 f. 4 I. deep
10
8 f 6 I
9 I
2 f.
8.2 rise (stair)
Dairy
6
Smoke-house
12
6
M__
14 f.
100 f. (exterior length)
24 f. (exterior width)
9 f 2 1/2 I
5
[gap of due to ]
---
Text
Description: Instructions for changes in the plan (partially crossed out)
Location: Above drawing
Author: Jefferson
Transcription:

Insert a pantry between the Dairy and Smoke-house 9f. in the clear and __ .8 wall which just adds another window, door and arch. but from that 9 f. take off a passage leading to a fire place in which fires may be kindled with the bungel leading into the Smoke-house, so that a fire may be kept up without going into the smoke House and also to ___ in ___ for the ___ for ___. add 6f. to Dairy (if it ___ for Pantry) & ___ for passage.
Insert 10f. more for the Wine room and store room, making them with their partition 27f. instead of 17f. or throw in the 10 f. for a Lumber room. qu. if not better to have lumber room in opposite lower and so add that __ f. to the room at S.W. end __ room.
This makes the house 120f. long without, and is equal to the opposite house.
between Dairy & Smokehouse insert 20f. orig. wall of .4 Pantry 14 f. + wall 1f. + passage 4f. = 20. the passage is to have a fire place on the right to ___ smoke into the smoke house, and on the left to have small apertures at which fire may be put into grates in the pantry which by this means will make a good winter dairy. the other dairy to be open on both sides so as to be only a summer dairy. let the pantry also serve for a Meal room, & add the 10f. of the Meal room to the west to make a spinning room. this makes the house 120f. long.
---
Text
Description: Dimensions
Location: Verso of N-32
Author: Jefferson
Transcription:

The whole height above the kitchen floor must be but 14f. 6I
The Pediment above the Cornice is 6
Which leaves the Pitch, including the Cornice 8-6
the Cornice is 8.7I _ the architrave and Key-stone of arch 9I = 1-5.7
the height of the arch then is 7.
_____ 7.
_____ 3.
_____ transverse arch horizontal __ 7.