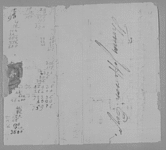 Monticello I study plan
---

Description: Two study plans of the house with notes and calculations.
Date: Probaby 1770, early 1771
Medium: Ink
Support: Laid paper (Paper CX)
Dimensions: 12.0 cm x 10.7 cm (4-3/4" x 4-1/4") -- measured: JH 14SEP92
Condition: Silk encapsulated, loss (probably 18th c.) in area of wax seal, minor losses along bottom and left edge of drawing, tears in lower right quadrant, slight separation at crease (approx. 1/3 down from top edge).
Author: Thomas Jefferson
Owner: MHi
Classification: N-54 , K-29
Publication History:
Author: Kimball
Title: Thomas Jefferson Architect
Date: 1916
Note:
Author: Nichols
Title: Jefferson's Architectural Drawings
Date: 1984
Note:

Commentary: Appears to be two alternative versions of the same plan (JT)
---
Drawing
Description: Study plan of house.
Location: Top of page
Features:

Semi-octagonal central room
Windows
Fireplaces
---
Drawing
Description: Study plan of house
Location: Bottom of page
Features:

Windows
Fireplaces
Stairs
Text:
Description: Directions pertaining to chimney flues
Location: Bottom of page
Author: Thomas Jefferson
Transcription:

The flues (two at each end) to be carried along an arch opening the middle room & to issue at the top through a stone cut as in Palladio Pl. 49. B.4.