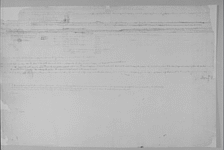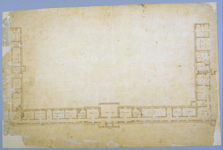 Final Plan of Basement and Dependencies
---

Description: The final drawing of the basement and dependencies with dimensins and rooms labelled. Scale: 15'=1"Notes and specifications on verso; text rotated 180degrees from recto in orientation.
Date: Before 4 August 1772
Medium: Ink
Support: Laid paper with watermark
Dimensions: 34.9 cm x 53.2 cm (13-3/4" x 20-15/16")
Condition: Silk encapsulated; losses at upper left (lower right on verso) corner and edge, lower left (upper left on verso) corner, upper right (lower right on verso), and along lower right (upper right on verso) edge patched with Fabriano paper (20th c.); ink spots scattered throughout sheet on both sides; bleached effect along left edge and near bottom edge at center; discoloration throughout especially along edges; some ms text and drawing missing due to losses.
Author: Jefferson
Owner: MHi
Classification: N-56 , K-31
Publication History:
Author: Kimball
Title: Thomas Jefferson Architect
Date: 1916
Note:
Author: Nichols
Title: Jefferson's Architectural Drawings
Date: 1984
Note:
Commentary:
---
Drawing
Description: Plan with labelled rooms
Location: Entire page
Features:
Text:

Description: Room labels with calculations
Location: Within the plan
Author: Jefferson
Transcription:

Brewing room
__chest
Smoke room
Dry-well
Pantry
laundry
Kitchen
Servant
Summer dairy
Pantry
meal room
wine room
Rum cellar
Ware-room
Battery
Beer-cellar
Store room
Saddle room
Hosterie
Servants
Solitude
Stables
Chariot-house
Corn room
---
Text
Description: Measurements, calculations and written descriptions of the basement and dependencies
Location: Verso of N-56, entire page
Author: Jefferson
Transcription:

--high & 1 1/2 bricks thick & will make the dry well 12 f deeper than it is at present and 2 bricks the _____ exclusive of fireplaces, chimnies & floors
Northern arm with the out chamber, exclusive of fireplaces, chimnies & floors
The offices & N. Gulch (except the S. Eastern of the S.E. wing & N. Western of the N.W ) and also ____moats from 5f below the surface of the earth up to the surface, will take 335 perch of stonework, if those walls are 18 I thick & +50 perch to make______
The offices S.E. & N.W. 1 1/2 bricks thick
The offices _f high & 1 1/2 bricks thick or if only 1 brick thick it will take less by
The flu of the laundry fireplace to pass thro the _____than a square flu of 9 I but the ________
The height of the arch above the plint and its mouldings 2-2 If the offices be built of brick from their floor upwards, the foundation below that & the moats being of stone, it will take as follows.
The height of the plinth and its mouldings from floor to the bottom of plinth of arches
from the House to the N. Octagon --- 37,000 bricks
N. Octagon (12 f. pitch) ---31,000
from N. Octagon to N. Outchamber ---35,694
N. Outchamber --- 35, 725 139,419
from the House to the S. Octagon ---30,300
S. Octagon --- 31,000 from S. Octagon to S. Out chamber (exclus. Dry well) 36,852 98,152
Drywell 16 f below floor of offices, (if of brick 20,864
Total 258,435
door to be made like 2 doors meeting at a right angle thus the hinge (a) hanging to hooks in the side frame of
This means it ___ alwais be open (if chosen) for a person to enter & yet a horse cannot be brought out.