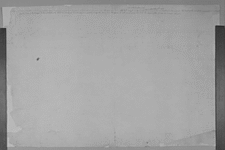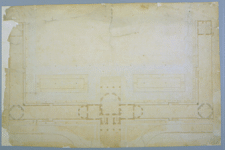 Final Plan of First FLoor with Dependencies
---

Description: Drawing of first floor including dependencies, octagonal buildings and pavilions
Date: Before August 4, 1771
Medium: Ink
Support: Laid paper with water marks (Paper AM)
Dimensions: 34.9 cm x 53.2 cm (13-3/4" x 20-15/16")
Condition: Silk encapsulated, major loss along left edge (1/2" - 3/4" wide strip), minor losses at other edges and at upper and lower right corners, losses patched with Fabriano paper (20th c.), transfer stain present from another drawing, ink spot at upper left quadrant on verso shows through on lower left quadrant of recto side, large tears in upper half, tear lines dirty, area along edges discolored due to dirt, drawing missing at upper left due to loss
Author: Jefferson
Owner: MHi
Classification: N-57 , K-32
Publication History:
Author: Kimball
Title: Thomas Jefferson Architect
Date: 1916
Note:
Author: Nichols
Title: Jefferson's Architectural Drawings
Date: 1984
Note:

Commentary: Kimball identifies three changes in the corner pavilions--from a square canopy to a circular "monopseros" to the final enclosed octagonal form. (JNT)
---
Drawing
Description: Plan of house and dependencies
Location: Entire page
Features:

Entrance stairs
Tetrastyle porticos
Semi-octagonal main room
Semi-octagonal end rooms
Internal stairways
Fireplaces
Windows
Windows-splayed
Octagonal corner pavilions
Square end pavilions
Connected dependencies

Text:

Description: Miscellaneous dimensions
Location: On drawing
Author: Jefferson
---
Text
Description: Notes about the facades of dependencies
Location: Verso of N-57
Author: Jefferson
Transcription:

__lustrading to be so put together that it may be taken down by pannels so as to open any part of flat roof in case of a leak. The panels to be 8f 3I long from center to center of post & 2f 9I high from the floor to top of the rail. The peices to be 2I deep & 1I wide in front. This height of the balustrade is properly proportioned for the terras of the Octagon, to the entablature on which it will stand. it will also be a good height for the terras over the offices, & well enough proportioned to the height of the Chinese & Tuscan columns.