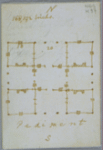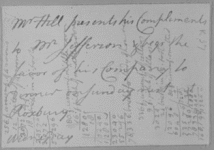 A Garden Temple
---

Description: A plan for a garden temple written on verso of a dinner invitation from Mr. Hill of Roxbury. Calculations are written on the same side as the invitation but perpendicular to the writing.
Date: About 1770-1771
Medium: Ink
Support: Card
Dimensions: 8.6 cm x 5.9 cm (3-3/8" x 2-5/16")
Condition: Silk encapsulated, very good condition overall.
Author: Jefferson
Owner: MHi
Classification: N-64 , K-37
Publication History:
Author: Kimball
Title: Thomas Jefferson Architect
Date: 1916
Note:
Author: Nichols
Title: Jefferson's Architectural Drawings
Date: 1984
Note:
Commentary:
---
Drawing
Description: Plan
Location: Entire card
Features:
Text:

Description: Plan details
Location: Both above and below plan
Author: Jefferson
Transcription:

N
160,192 bricks
Pediment
S
---
Text
Description: Calculations written over and perpendicular to a dinner invitation from Mr. Hill.
Location: Entire page
Author: Jefferson and Mr. Hill
Transcription:

Calculations
Mr. Hill presents his compliments to Mr. Jefferson & begs the favor of his company to dinner on Sunday next at Roxburg.