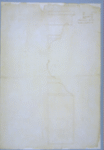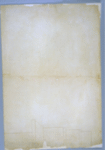 Monticello - Architectural detail (Study)
---

Description: "Ionic Basement of Study" - with specifications. Scale: full size.
Date: 1775 or later
Medium: Ink
Support: Paper AM
Dimensions: 55.5 cm x 38.4 cm (21-7/8" x 15-1/8") -- measured: JH 12JUL93
Condition: Silk encapsulated; losses along top edge, at lower right corner, along bottom edge, and at lower left edge near corner patched with Fabriano paper (20th c.); horizontal crease in center due to folding; tears in area along edges; sheet slightly dirty; light [fluid?] stain at center left edge; discoloration due to dirt at lower right edge; edges slightly worn and ragged; assorted stains on verso; discoloration due to dirt along crease and edges (especially edge with drawing) -JH
Author: Jefferson
Owner: MHi
Classification: N076 , K047
Publication History:
Author: Kimball
Title: Thomas Jefferson Architect
Date: 1916
Note:
Author: Nichols
Title: Jefferson's Architectural Drawings
Date: 1984
Note:

Commentary: On verso: unidentified entablature/basement (drawing occupies 4-1/2" wide strip along side edge and is rotated 90 deg. in orientation from recto side). -JH No text.
---
Drawing
Description: Elevation - "Ionic Study of Basement
Location: Center of sheet (along fold)
Features:

Entablature
Baseboard
Specifications for "Basement"

Text:

Description: Height specifications for Basement elements
Location: Top middle (right side of fold)
Author: Jefferson
Transcription:

Cap 5 4/10 I. high
Dye 24 6/10
Mouldings of base 3 6/10
Plinth 7 1/4
Whole Basement 36 - 4 7/20 I.
Projection of Cap & Base 3 5/6 I.

---

Text

Description: Notes for wall treatment
Location: Center of scheet, along fold (vertical orientation)
Author: Jefferson
Transcription: