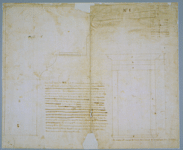 Monticello - Windows
---

Description: Details of windows, with notes and specifications. Scale: full size.
Date: 1775(?)
Medium: Ink
Support: Paper AO
Dimensions: 37.3 cm x 45.1 cm (14-11/16" x 17-3/4") -- measured: JH 13JUL93
Condition: linen backed; split at center along vertical crease (due to folding); major losses at center top & bottom edges and right top edge near corner patched with Fabriano paper (20th c.); minor losses at upper left corner, upper right edge, and along center crease at 3-1/2" from bottom edge; top 3" of upper right quadrant very dirty; assorted stains scattered throughout sheet; tears in area along edges and crease; edges and crease dirty; edges worn and ragged (especially top & right edges)- JH
Author: Jefferson
Owner: MHi
Classification: N077 , K048
Publication History:
Author: Kimball
Title: Thomas Jefferson Architect
Date: 1916
Note:
Author: Nichols
Title: Jefferson's Architectural Drawings
Date: 1984
Note:

Commentary: Variation in scale for drawings; Some text marked through but still legible. "
---
Drawing
Description: Elevation and detail of window for Monticello
Location: Elements of drawing are arranged about sheet
Features:

Elevation of window
Detail of top molding
Specifications (referring to measuring points)
Text to explain notations on sheet

Text:

Description: Numeric label
Location: Top middle center
Author: Jefferson
Transcription:
---
Text
Description: Measurements for Window (List format)
Location: Top right corner
Author: Jefferson
Transcription:

from v to b 13/32 or 0.40625
b to c 5 4/7 or 5.714
c to d
e to f
g to h
h to i (sum equals) 26/105 or 0.2476
h to k 2 11/105 or 2.5047
h to l 13/25 or 0.619
m to n 26/63 or 0.4127
o to p 13/24 or 0.619
(crossed out)p to q 10 19/28 or 10.6700
p to v 7 187/224 or 7.83475
q to r 7 3/7 or 7.4285
r to a 5 4/7 or 5.5714
---
Text
Description: Text regarding window elevation
Location: Lower right corner
Author: Jefferson
Transcription:

"Fig. A"
"A" "B" "C" "D" (letter label for window elements)
(below sill)"this window sill marked D I would have (word illegible)to an astragal, list and hollow."
---
Text
Description: Detail of window lintel
Location: Left side
Author: Jefferson
Transcription:

"Fig. 2" (label for detail)
"B" "C" (letter labels which correspond to to window elevation)
---
Text
Description: Text explaining sheet notation
Location: Center middle towards bottom
Author: Jefferson
Transcription: