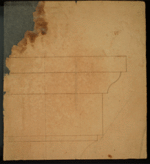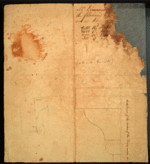 Architrave, Monticello Dining Room
---

Description: Drawing of archiatrave in the Monticello Dining Room
Date: unknown
Medium:
Support: Paper AJ
Dimensions: 9-1/2 x 10-1/2 in.
Dimensions:
Condition:
Author: Jefferson
Owner: ViU
Classification: N-188 , K-j
Publication History:
Author: Nichols
Title: Thomas Jefferson's Architectural Drawings
Date: 1984
Note:

Commentary: During the 1953 restoration, Milton Grigg, the architect, found a beam with Dinsmore's name written on it.
---
Drawing
Description: Architrave of dining room
Location: lower right quadrant (recto)
Features:

architrave outline
Cyma reversa with bead molding

Text:

Description: description of drawing
Location: on right side of drawing of molding
Author: Jefferson
Transcription:

architrave of the arches of the Dining room. 13-1/2.
---
Text
Description: Note to James Dinsmore; apparently unrelated?
Location: Upper right quadrant(recto)
Author: Alex ?
Transcription:

"Mr. Dinsmore [gap of about 1 line due to paper rotted away] the following nail [gap of about 1 line due to paper rotted away] me as Soon as p [gap of about 1 line due to paper rotted away] 1500 16 nails, 2500 6 Ditto, 1000 12 Ditto, 300 8 Ditto Alex [gap of about 5 lines due to paper rotted away]
---
Text
Description: Alexander Garrett
Location: Upper right quadrant (recto)
Author: Jefferson
Transcription:
---
Drawing
Description: Preliminary sketch of architrave
Location: low left quadrant (recto)
Features:
---
Drawing
Description: Full drawing of architrave of Dining Room arches
Location: three-quarters of page (verso)
Features:

Cyma reversa molding
Cavetto molding