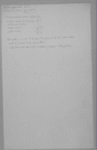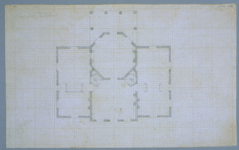 Poplar Forest - house (study plan)
---

Description: "Plan for Bedford" - study for a house, unexecuted. Scale: approx. 10'=1". On verso: notes regarding dimensions and bricks required.
Date: Before 1806, probably before 1804
Medium: Pencil
Support: Paper BD
Dimensions: 18.1 cm x 29.2 cm (7-1/8" x 11-1/2") -- measured: JH 16DEC92
Condition: Silk encapsulated, light fluid stain at upper left (i.e., upper right on verso) assorted dirt spots and smudges scattered throughout
Author: Jefferson
Owner: MHi
Classification: N-256 , K-185
Publication History:
Author: Kimball
Title: Thomas Jefferson Architect
Date: 1916
Note:
Author: Nichols
Title: Jefferson's Architectural Drawings
Date: 1984
Note:

Commentary: Drawings N256/K185 - N259/K188 form a sequence, with this drawing (N256/K185) being the latest. A logical growth can be traced through the four drawings.
---
Drawing
Description: Floor plan
Location: Entire page (recto)
Features:

Octagonal room
Tetrastyle portico
STairs, circular, two
Alcove beds (?)
Fireplaces
Splayed windows
Entries, four
Text:
Description: Dimensions and brick calculations
Location: Entire page (verso)
Author: Jefferson
Transcription:

f I/ to the water table 4-6/ body of the house 19-0 pitch/ [total] 23-6/ the two middle rooms 18f. pitch/ f I/the lower rooms in the wings 10-0/ joists, cieling[sic] & floor 1-/ upper rooms 7-0/ [total]18-0/ joists & cieling[sic] 1-/[total] 19-0/ the walls 2. bricks thick from the ground to the water table/ and 1 1/2 brick thick above that./ will take 130,000. bricks, exclusive of cellars & the portico.