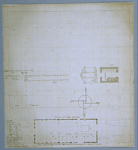 Tufton and Lego - barns (studies)
---

Description: Sketches of barns, with notes and specifications. Plan of "Barn at Lego" with a section marked "Old Building" and surrounding section marked "addition." Outline of Tufton barn and shed elevation. Also plan and elevation of "Brewhouse" rotated 90 deg. in orientation from notes and Lego barn plan. Scale: approx. 10'=1".
Date: ca. 1810-1814
Medium: Ink & pencil
Support: Paper BD
Dimensions:
Condition: Linen backed, two lines of abrasian (from erasing unwanted lines) in center left area, light foxing throughout sheet, assorted small stains in lower left corner area, edges and corners discolored due to dirt
Author: Jefferson
Owner: MHi
Classification: N-298 , K-197
Publication History:
Author: Kimball
Title: Thomas Jefferson Architect
Date: 1916
Note:
Author: Nichols
Title: Jefferson's Architectural Drawings
Date: 1984
Note:

Commentary: Barn sketches in ink. Pencil drawing appears to be unrelated to the barn sketches: there are traces of erased lines, one area was marked "offices," two drawings of monuments of some kind. (JH)
---
Drawing
Description: Elevation of Tufton barn
Location: Upper right quadrant
Features:

Gable roof
Arched opening

Text:

Description: Note to accompany plan
Location: Below drawing
Author: Jefferson
Transcription:

no chimney, but the smoke to issure at a flue hole .a.
---
Drawing
Description: Plan of Tufton barn
Location: Upper right quadrant
Description: Notes
Location: On plan
Author: Jefferson
Transcription:

hot [___]
fire flue
Brewhouse
tubs
road
---
Drawing
Description: Plan of barn and shed at Tufton
Location: Lower left quadrant
Features:

Single line drawing showing building adjacencies

Text:

Description: Notes
Location: On plan
Author: Jefferson
Transcription:
---
Drawing
Description: Unidentified plan of elevation of propeller (?)
Location: Lower right quadrant
---
Drawing
Description: Plan of Lego barn
Location: Lower half of page
Features:

Entries, four
Plan of existing and proposed construction

Text:

Description: Title and notes
Location: On plan
Author: Jefferson
Transcription:

Barn at Lego 20 by 52 f.
Old Building
addition
on this which is the upper side, new rafters bust be got, extending from the ridge pole to the eves
---
Drawing
Description: Elevations of two monuments
Location: Lower right quadrant
Features:

Obelisks
Rectangular bases
Text:
Description: Calculation for rafters and shingles for the Tufton barn
Location: Upper left quadrant
Author: Jefferson
---
Text
Description: Claculations for wood framing and shingles for the Lego barn
Location: Lower left quadrant
Author: Jefferson