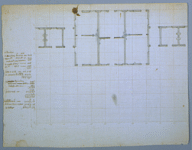 Misc. Buildings - district college (plan)
---

Description: Plan for a "district college" showing a central building, with two school rooms and four rooms for the accommodation of the professors, flanked by dormitories for the students. Scale: 10'=1". In TJ's proposal for a 3-tiered public education system, the district college provided the middle level of instruction.
Date: 1817
Medium: Ink & pencil
Support: Brown lined coordinate paper
Dimensions: 25.7 cm x 33.4 cm (10-1/8" x 13-1/8") -- measured: JH 29JUN93
Condition: Vertical crease at center, ink stain at top edge near center, graphite smudge at lower right quadrant, fluid stain at left bottom edge, cluster of ink spots at upper left corner, three discrete ink spots in right half, minor loss at lower right corner, brownish discoloration along top edge, deckle left edge, left and bottom edges slightly dirty
Author: Jefferson
Owner: MHi
Classification: N-299 , K-000
Publication History:
Author: Kimball
Title: Thomas Jefferson Architect
Date: 1916
Note:
Author: Nichols
Title: Jefferson's Architectural Drawings
Date: 1984
Note:

Commentary: Originally identified by Kimball and Nichols as an early study for the plan of pavilion and dormitory units of the Univ. of Virginia; re-identified by Patricia Sherwood (see "The Mystery Solved:..." in Arts in Virginia, 30(2-3):10, Fall-Winter 1992-93).(JH)
---
Drawing
Description: Floor Plan
Location: Entire page
Features:

Windows,splayed
Entries, front and rear
Six-room central block flanked by a passageway and single file of rooms on each side.
Text:
Description: Calculations
Location: Left of plan
Author: Jefferson