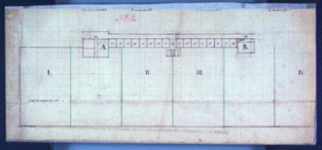 Plan A for West Range Hotels and Dormitories
---

Description: West Range Gardens, Hotels and Dormitories
Date: Spring 1818
Medium: Iron gall ink
Support: Engraved graph paper
Dimensions: 14-3/4" L x 6-1/4' W
Condition: Cut from N366
Author: Jefferson
Owner: ViU
Classification: N-306 , K No. 2 , L-00-14
Publication History:
Author: Kimball
Title: Thomas Jefferson Architect
Date: 1916
Note:
Author: Nichols
Title: Jefferson's Architectural Drawings
Date: 1984
Note:
Author: Wilson, ed.
Title: Jefferson's Academical Village
Date: 1993
Note:
Author: Lasala
Title: Jefferson's Designs for the University of Virignia
Date: 1992
Note:

Commentary: This original study for the West Range shows Jefferson's initial intention to place the West Range directly behind the Pavilions and Dormitories of the Lawn.
---
Drawing
Description: Gardens, Hotels and Range of Dormitories
Location: Entire page
Features:

Hotels A and B
Dormitory rooms
Gardens, I, II, III, IV with walls

Text:

Description: Hotels' titles
Location: On plan
Author: Jefferson
Transcription:

---

Text

Description: Garden designations
Location: On plan
Author: Jefferson
Transcription:
---
Text
Description: Dormitory Room widths
Location: On plan
Author: Jefferson
Transcription: