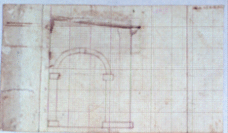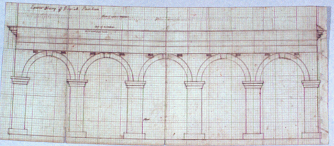 Pavilion VII portico
---

Description: Study for south and west elevations
Date: Before 1817?
Medium: Pricking, scoring and iron gall ink
Support: Engraved graph paper
Dimensions: 6" x 15"
Condition:
Author: Jefferson
Owner: ViU
Classification: N307 , K No. 3 , L-07-02 , L-07-03
Publication History:
Author: Kimball
Title: Thomas Jefferson Architect
Date: 1916
Note:
Author: Nichols
Title: Jefferson's Architectural Drawings
Date: 1984
Note:
Author: Lasala
Title: Jefferson's Designs for the University of Virginia
Date: 1992
Note:
Author: Wilson, ed.
Title: Jefferson's Academical Village
Date: 1993
Note:

Commentary: These two sheets were once joined. Together they are the studies for Pavilion VII's lower portico.
---
Drawing
Description: Study for south elevation of Pavilion VII lower portico
Location: Entire page
Features:

Arch, elliptical
Columns, engaged, Doric(?)
Text:
Description: Scale of drawing
Location: Top right of drawing
Author: Jefferson
Transcription:
---
Text
Description: Construction notes
Location: Left margin of drawing
Author: Jefferson
Transcription:

level of top of window
top of entablature
botton of entablature
series of dimensions
---
Drawing
Description: Lower Story of Dorick Pavilion
Location: Entire page
Features:

Arcade, Doric
Beam pockets

Text:

Description: Construction notes
Location: In drawing
Author: Jefferson
Transcription:

Floor of upper rooms
top of window
brick work stops here
floor
---
Text
Description: Study for west elevation
Location: Top of drawing
Author: Jefferson
Transcription:

Lower Story of Dorick Pavilion