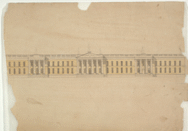 Dr. Thornton's Pavilions and Dormitories
---

Description: Front facade of two story building
Date: 1817
Medium: Ink and water color
Support: thin wove paper watermarked J. Whatman
Dimensions: 13" x 9-1/4"
Condition:
Author: Thornton
Owner: ViU
Classification: N-310 , K No. 4
Publication History:
Author: Kimball
Title: Thomas Jefferson Architect
Date: 1916
Note:
Author: Nichols
Title: Jefferson's Architectural Drawings
Date: 1984
Note:

Commentary: In May 1817 Jefferson wrote to Dr. William Thornton describing his plan for the Central College with separate pavilions and a range of dormitories. Thornton responded on June 11 with a two story composition of student rooms and pavilions.
---
Drawing
Description: Dr. Thornton's plan
Location: Entire page
Features:

Pavilions with Ionic columns
Pavilion with Corinthian columns
Roof balustrade
Windows
Doors