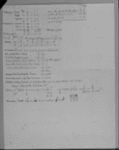 University of Virginia - re: Pavilion II
---

Description: Notes pertaining to study for Pavilion II, giving dimensions of various aspects of the design and related size calculations. -- On verso of drawing N319/K209, Study for Pavilion II.
Date: 1819
Medium: Ink
Support: Paper BD
Dimensions: 28.7 cm x 21.3 cm (11-5/16" x 8-3/8") -- measured: JH 08JAN93
Condition: Silk encapsulated, cut out L-shaped area in upper right quadrant patched with Fabriano paper (20th c.) to square off sheet, ink stain in upper right corner of main sheet, minor stain and slight discoloration in patch paper, shadow of drawing on verso visible due to ink bleed-through, assorted minor stains in bottom quadrant
Author: Jefferson
Owner: MHi
Classification: N-320 , K-210
Publication History:
Author: Kimball
Title: Thomas Jefferson Architect
Date: 1916
Note:
Author: Nichols
Title: Jefferson's Architectural Drawings
Date: 1984
Note:
Commentary:
---
Drawing
Description: Diagram of chimney shaft
Location: Lower right quadrant
Text:
Description: Calculations
Location: Entire page
Author: Jefferson
Transcription:

Calculations for height of exterior orders, heights of interior walls and orders,placements of windows, dimensions of stairs, and dimensions of chimney shaft.