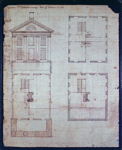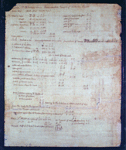 Pavilion No. II, University of Virginia
---

Description: Drawing of Pavilion II's front facade and floor plans and specifications for the building
Date: June 1819
Medium: pricking, scoring, iron gall ink, india ink
Support: Paper BD
Dimensions: 10 x 12 in.
Condition:
Author: Thomas Jefferson
Owner: ViU
Classification: N-321 , K-14 , L-02-01
Publication History:
Author: Kimball
Title: Thomas Jefferson, Architect
Date: 1916
Note:
Author: Nichols
Title: Thomas Jefferson's Architectural Drawings
Date: 1984
Note:
Author: Ed., Wilson
Title: Thomas Jefferson's Academical Village
Date: 1993
Note:

Commentary: On June 5, 1819, Jefferson wrote that he was about to begin the drawings for the east lawn. This drawing is of an elevation and three plans; specifications are on the back. Typical as with all of Jefferson's drawings for the pavilions he omits the balcony and the Chinese railing. On the first floor is the large schoolroom, and on the second floor are the professor's three rooms. Jefferson apparently, erased some notes to right of elevation and also made erasures and corrections around the fireplaces on all three floors, the basement staircase, and the frieze. Jefferson also made a disclaimer about the incorrect height of the pediment on this drawing: "this pediments is by mistake 10 f high." Jefferson frequently left a drawing in its incorrect state and simply made a written correction on the drawing or in the specifications on the back. Both his age and the pain of his wrists made him prefer to make written corrections or erasures rather than creating an entirely new drawing. On the left or north side of the first floor plan Jefferson indicates a continuation of the colonnade to the north, perhaps indicating that this Pavilion was originally intended for some other location than at the end of the Lawn. The plans for this Pavilion are similar to a preliminary set of plans for Pavilion VIII (N-319). This is not unusual as Jefferson resued the floor plans for other pavilions (see Pavilion I and V, and Pavilion VI and X). (RGW)
---
Drawing
Description: Front Facade (west elevation)
Location: Upper Left Quadrant
Features:

Columns, Ionic
Fenestration, lunette
Chimney
Fenestration, double hung 9 over 9 on first floor Fenestration, double hung 6 over 6 on second floor
Scale: 10' = 1".
---
Drawing
Description: First Floor Plan
Location: Lower Left Quadrant
Features:

Double central fireplace
Classrooms
Passages
Portico
---
Drawing
Description: Second Floor Plan
Location: Upper Right Quadrant
Features:

Rooms
Passages
Fenestration, splayed
Fireplaces
Stair
---
Drawing
Description: Basement plan
Location: Lower Right Quadrant
Features:

Fireplace
Stair
Fenestration, splayed
Rooms
Text:
Description: Title of Drawing
Location: Top of drawing
Author: Jefferson
Transcription:

Pavilion No. II. Eastern range. Ionic of Fortuna Virilis.
---
Text
Description: Construction notes and corrections to drawing.
Location: Left margin
Author: Jefferson
Transcription:

this pediment is by mistake 10 f high instead of 8 f 10 2/3".
joists
cieling [Jefferson's misspelling]
[bottom] entabl.
floor
cieling
zocle
floor
---
Text
Description: Building specifications
Location: Entire page (verso)
Author: Jefferson
Transcription:

[gap of corner of paper and letter 'P' due to tear] avilion No. II. Eastern range. Ionic dentils. temple of Fortuna Virilis. [more]