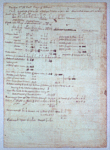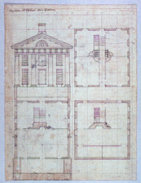 Pavilion No. IV, University of Virginia
---

Description: Drawing of Pavilion IV's front facade and floor plans and specifications for the building
Date: June 1819
Medium: pricking, scoring, iron gall ink, india ink
Support: Paper BD
Dimensions: 12 x 8-3/4 in.
Condition: At one time, preserved by the Barrow method, now delaminated and in original condition. Single tear repair and Japanese tissue repair. Smudges of dirt or ink. Minor foxing.
Author: Thomas Jefferson
Owner: ViU
Classification: N-322 , K-16 , L-04-01
Publication History:
Author: Kimball
Title: Thomas Jefferson, Architect
Date: 1916
Note:
Author: Nichols
Title: Thomas Jefferson's Architectural Drawings
Date: 1984
Note:
Author: Wilson, ed.
Title: Thomas Jefferson's Academical Village
Date: 1993
Note:
Author: Lasala
Title: Jefferson's Designs for the University of Virginia
Date: 1992
Note:

Commentary: Note that on the elevation drawing, Jefferson extended the sides of the first floor window and door frams to the floor of the portico, suggesting that he drew these vertical lines before he drew the horizontal window and door sills. Erasures may be found on the right side of the basement stairs and around the fireplaces on the second floor plan. (JML)
---
Drawing
Description: Front Facade (east elevation)
Location: Upper Left Quadrant
Features:

Columns, Doric
Fenestration, lunette
Chimney
Triglyphs
Metopes
Fenestration, double hung 9 over 9 on first floor
Fenestration, double hung 6 over 6 on second floor
Scale: 10' = 1".
---
Drawing
Description: First Floor Plan
Location: Lower Left Quadrant
Features:

Central fireplaces
Classrooms
Stairs
Portico
Fenestration, splayed
Door, central
Pin pricks to denote first story
---
Drawing
Description: Second Floor Plan
Location: Upper Right Quadrant
Features:

Rooms
Passage, central
Fenestration, splayed
Fireplaces or stoves
Stair
Entrance
Columns erased
---
Drawing
Description: Basement plan
Location: Lower Right Quadrant
Features:

Fireplace
Stair
Fenestration, splayed
Rooms
Text:
Description: Title of Drawing
Location: Top of drawing
Author: Jefferson
Transcription:

Pavilion No. IV. East. Doric of Albano
---
Text
Description: Construction notes and corrections to drawing.
Location: Left margin
Author: Jefferson
Transcription:

Pavilion No. IV East. Doric of Albano
[more]