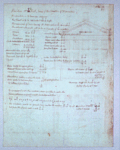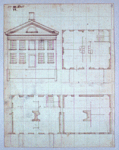 Pavilion No. VI, University of Virginia
---

Description: Drawing of Pavilion VI's front facade and floor plans and specifications for the building
Date: June 1819
Medium: pricking, scoring, iron gall ink, india ink
Support: Paper BD
Dimensions: 12 x 8-3/4 in.
Condition: At one time preserved by the Barrow process; now restored to original condition. Repaired minor tears with Japanese tissue. Residue of adhesive on side.
Author: Thomas Jefferson
Owner: ViU
Classification: N-324 , K-18 , L-06-02
Publication History:
Author: Kimball
Title: Thomas Jefferson, Architect
Date: 1916
Note:
Author: Nichols
Title: Thomas Jefferson's Architectural Drawings
Date: 1984
Note:
Author: Ed., Wilson
Title: Thomas Jefferson's Academical Village
Date: 1993
Note:
Author: Lasala
Title: Jefferson's Designs for the University of Virginia
Date: 1992
Note:

Commentary: Perhaps the most interesting features of this draiwng are the erased porticos on the first and second floor plans. (JML)
---
Drawing
Description: Front Facade (east elevation)
Location: Upper Left Quadrant
Features:

Fenestration, lunette
Chimney
Entrance, first story
Entrance, second story
Fenestration, double hung 6 over 6 on first floor Fenestration, double hung 6 over 6 on second floor
Scale: 10' = 1".
---
Drawing
Description: First Floor Plan
Location: Lower Left Quadrant
Features:

Central fireplaces
Classrooms
Stairs
Fenestration, splayed
Door, central
---
Drawing
Description: Second Floor Plan
Location: Upper Right Quadrant
Features:

Rooms
Passage, central
Fenestration, splayed
Fireplaces or stoves
Stair
Entrance
---
Drawing
Description: Basement plan
Location: Lower Right Quadrant
Features:

Fireplace
Entrance
Fenestration, splayed
Rooms
Text:
Description: Title of Drawing
Location: Top of drawing
Author: Jefferson
Transcription:
---
Text
Description: Construction notes and corrections to drawing.
Location: Left margin
Author: Jefferson
Transcription:

Pvailion No. VI East. Ionic of the theatre of Marcellus.
the parlour is to have no(?) colums
the Front is to be 36 f. wide and 28 f.-8 I. high. [more]