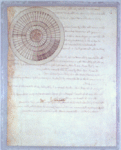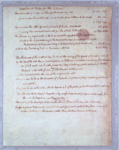 Dome Detail, University of Virginia Library (Rotunda)
---

Description: Jefferson's notes and drawing for framing the dome
Date: 1824
Medium: Pricking, iron gall ink
Support: Plain wove paper, watermarked S & C Wise
Dimensions: 7-3/4 x 9-3/4 in.
Condition:
Author: Jefferson
Owner: ViU
Classification: K-12 , N-332 , JML-17-08 , JML-17-09
Publication History:
Author: Kimball
Title: Thomas Jefferson
Date: 1916
Note:
Author: Nichols
Title: Thomas Jefferson's Architectural Drawings
Date: 1984
Note:
Author: Joseph Michael Lasala
Title: Thomas Jefferson's Designs for the University of Virginia
Date: 1992
Note: Unpublished Master's Thesis

Commentary: Jefferson's diagram for the wooden ribs of the Rotunda's dome is drawn on a separate piece of paper which he then cut into a circular overlay. This overlay, in turn, has been affixed with red wax to the back of a memorandum titled "Additional Notes for the Library." Jefferson used a similar wooden rib construction technique for the dome at Monticello and he derived the construction details for both the Monticello and Rotunda domes from Delorme. At the time he was designing the dome for the Rotunda, Jefferson no longer owned Delorme's book and found himself writing to Gen. Joseph G. Swift on 22 May 1824 asking if he could borrow his copy.
There is a volume which at this time would answer a most valuable prupose to the University. it is De Lorme's Invention pour bien bâtir, about the middle of the 5th page of the catalogue. we are at this time about building a Dome to our principal edifice on De Lorme's plan. I once owned the book, and understood the principles of his invention, but my recollection is not particular enough in every thing, our workmen are strangers to it, and I fear we may go wrong. if we could be accomoted with this single volume it would be of singular service to us.
[more] Gen. Swift complied with Jefferson's request and on 21 June 1825 Jefferson wrote him that
I was much indebted to you for the kind loan of de Lorme's Architecture. it [sic] now packed up in readiness to be returned.
(JML)
---
Drawing
Description: Dome diagram
Location: Upper left corner (verso)
Features:

concentric circles of wood and glass, with ribs becoming closer together as circle expands

Text:

Description: Signature
Location: Below the dome drawing
Author: Jefferson
Transcription:
---
Text
Description: Notes for Library
Location: Recto of N332 (entire page)
Author: Jefferson
Transcription:

Additional Notes for the Library. The estimate of bricks on the first drawing was 1,112,675 [more]