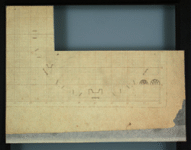 University of Virginia Rotunda
---

Description: Plan fragment
Date:
Medium: Ink
Support: Laid Paper; watermark: J BIGG (paper CZ)
Dimensions: 7-1/2 x 10-3/4 in. with 2-3/4 x 7-3/4 in. portion cut out
Condition:
Author: Jefferson?
Owner: ViU
Classification: N-333 , K-i
Publication History:
Author: Nichols
Title: Thomas Jefferson's Architectural Drawings
Date: 1984
Note:
Author: Kimball
Title: Thomas Jefferson Architect
Date: 1916
Note:

Commentary: Incomplete drawing showing window openings and a fireplace in a circular format.
---
Drawing
Description: Plan for Rotunda
Location: Entire page
Features:

Window openings
Fireplace