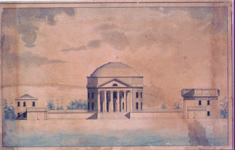 Neilson's view of the Rotunda with Pavilions IX and X
---

Description: View from the South probably for Mrs. Cocke
Date: February 1823
Medium: Ink with tinted washes
Support: Paper CW
Dimensions: 17-1/2 x 11 in.
Condition: Laminated and backed with linen. Significant tear damage and repair; also staining.
Author: Neilson
Owner: ViU
Classification: N-354
Publication History:
Author: Nichols
Title: Thomas Jefferson's Architectural Drawings
Date: 1984
Note:
Author: Cote
Title: The Architectural Workmen of Thomas Jefferson in Virginia
Date: 1986
Note: Ph.D. dissertation, Boston University
Author: Lay
Title: University of Virginia Alumni News 80
Date: October 1991
Note: "Jefferson's Master Builders" pp. 16-19
Author: Lasala
Title: Jefferson's Designs for the University
Date: 1992
Author: Wilson, ed.
Title: Thomas Jefferson's Academical Village
Date: 1993
Note:

Commentary: Credit for attributing this to Neilson and not to Jefferson's granddaughter, Cornelia Randolph, goes to C. Allan Brown.
---
Drawing
Description: View of Student Rooms, Pavilions IX and X, and the Rotunda
Location: Entire page (recto)
Features:

Colonade with Chinese railing
Steps
Roof, hipped
Fireplace, central
Fenestration, double-hung
Parapet on Roof
Columns, Doric
Fenestration, double-hung
landscape: trees, unterraced lawn
Terraces extending from Rotunda with railing
Portico with lunette window
Text:
Description: Unattached Letter from Neilson to General Cocke
Location: Cocke Family Papers, University of Virginia
Author: John Neilson
Transcription:

February 22, 1823
... an elevation of the Pantheon with the flank view of Pavillions [sic] No. 9 and 10 for Mrs. Cocke. [more]