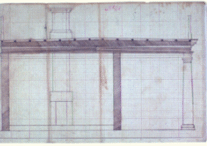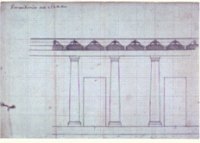 Dormitory section study
---

Description: Section through Lawn Colonnade and a Dormitory room
Date:
Medium: Pricking, scoring, iron gall ink
Support: Engraved graph paper
Dimensions: 7-1/4" L x 11" W
Condition:
Author: Jefferson
Owner: ViU
Classification: N-367 , K. No. 31 , L-19-02
Publication History:
Author: Kimball
Title: Thomas Jefferson Architect
Date: 1916
Note:
Author: Nichols
Title: Jefferson's Architectural Drawings
Date: 1984
Note:
Author: Lasala
Title: Jefferson's Designs for the University of Virginia
Date: 1992
Note:
Author: Wilson, ed.
Title: Jefferson's Academical Village
Date: 1993
Note:

Commentary: This section through the Lawn Colonnade and a Dormitory room shows the constrution details for the ridge and furrow "rooflets," including flashing above the Tuscan architraves. It also shows the interior of one of the students' rooms. This drawing also shows Chinese railings measuring approximately three feet high on each side of the rooftop promenade.
---
Drawing
Description: Section of Colonnade and Dormitory Room
Location: Entire page
Features:

Chimney and flue
Fireplace surround
Ridge and furrow
Architrave, Tuscan
Railing, Chinese
Walls, masonry
Floor
---
Drawing
Description: Section and elevation of colonnade
Location: Entire page
Features:

Rooflets, ridge and furrow
Columns, Tuscan
Text:
Description: Notes
Location: Upper left corner
Author: Jefferson
Transcription:

Dormitories
scale 3. I. to the line