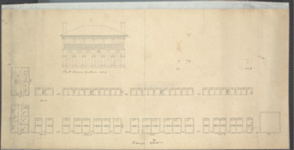 Study for Dormitory
---

Description: Ground plan and elevatino
Date:
Medium: Pencil, India ink and iron gall ink
Support: Plain wove paper
Dimensions: 7-1/4" L x 15-1/2" W
Condition:
Author: Unknown
Owner: ViU
Classification: N-377 , L-19-08
Publication History:
Author: Nichols
Title: Jefferson's Architectural Drawings
Date: 1984
Note:
Author: Lasala
Title: Jefferson's Designs for the University of Virginia
Date: 1992
Note:
Author: Wilson, ed.
Title: Jefferson's Academical Village
Date: 1993
Note:

Commentary: This study depicts alternate plans for a two story single pile vs. a one story double pile range of Dormitories. There is also a large dining hall at the left end of the range, as evidenced by what appear to be two long tables in the upper plan. Above the plans is a larger scale elevation of one of the two story blocks of Dormitories showing an arcade on the ground floor and a series of posts above. There is no visible evidence of pricking or scoring here. The drawings appear to be laid out in pencil and then traced over with pen and India ink. The dimensions in the various rooms as well as the other inscriptions are written in iron gall ink. (JML)
---
Drawing
Description: Two story elevation
Location: Upper left quadrant
Features:

Roof, hipped
Chimneys
Loggia, second story
Arcade, Tuscan, first story

Text:

Description: Elevation description
Location: Underneath drawing
Author: Unknown
Transcription:

Out lines, Section 40. 6.
---
Drawing
Description: Dining hall and single pile Dormitories
Location: Lower left and right quadrants
Features:

Tables in Dining hall
Rooms
Student rooms
Fireplaces
Stairs

Text:

Description: Measurements of rooms
Location: Within plans
Author: Unknown
Transcription:
---
Drawing
Description: Double pile dormitories
Location: Lower left and right quadrants
Features:

Rooms
Passages
Fireplace
Windows
Doors

Text:

Description: Measurement
Location: Under double pile plans
Author: Unknown
Transcription:
---
Text
Description:
Location:
Author:
Transcription: