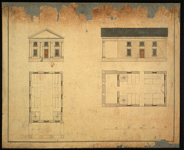 A Church with Tuscan portico
---

Description: An Episcopalian Preaching Hall from 1824
Date: 1820-1824
Medium: Ink and watercolor.
Support: Paper CW.
Dimensions: About 14 x 11 in.
Condition: Preserved by Barrow process -- heavily damaged by insect or vermin and water at top and bottom. Significant foxing. On back, evidence of folding in accordion fashion. Very bad shape.
Author: John Neilson
Owner: ViU
Classification: N-435
Publication History:
Author: Nichols
Title: Jefferson's Architectural Drawings
Date: 1984
Author: Shackleford
Title: Magazine of Albemarle County History, "Jefferson's Grandchildren"
Date:
Note:
Author: Bruder
Title: Who Built Christ Church Charlottesville?
Date: 1995

Commentary: Nichols and Shackelford thought this was done by Cornelia Randolph. However, Bruder showed (1995) that it was done by Neilson for Jefferson to submit to Rev. Hatch for the design of Christ Episcopal Church, Charlottesville.
---
Drawing
Description: Front elevation.
Location: Upper left quadrant
Features:

Columns, Tuscan Doric
temple front
stylobate
fenestration, double hung 6 over 6 on 1st floor
fenestration, single hung 3 over 3 on 2nd floor
door, paneled with cross and bible
---
Drawing
Description: Side elevation
Location: Upper right quadrant
Features:

fenestration, double hung 6 over 6 on 1st floor
fenestration, single hung 3 over 3 on 2nd floor
door, center, paneled with cross and bible
---
Drawing
Description: First floor plan
Location: Lower right quadrant
Features:

pews facing front and sides of nave
pulpit
windows, on east wall, unspecified
staircases, circular to balconies
aisle, center
aisle, center cross
---
Drawing
Description: Second floor plan
Location: Lower left quadrant
Features:

balconies
windows, twelve in plan, unspecified
pews facing center

Text:

Description:
Location:
Author:
Transcription:
---
Text
Description: Scale
Location: Lower right quadrant below first floor plan
Author: Neilson
Transcription: