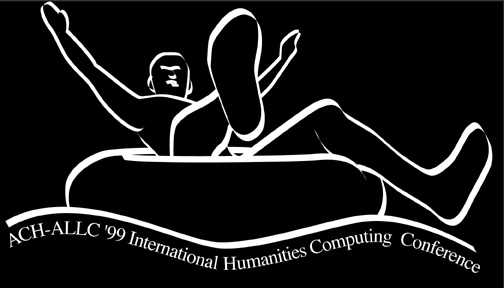 June 9-13, 1999 in Charlottesville, Virginia
The 1999 joint annual conference of the Association for Computers and the Humanities and the Association for Literary and Linguistic Computing will take place from June 9-13 at the University of Virginia in Charlottesville, Virginia, and will be hosted by the Electronic Text Center, the Institute for Advanced Technology in the Humanities, and the The Instructional Technology Group of ITC (Information Technology and Communication). More information about the University is available here, and more information about the local hosts is available here. For information about conference food, housing, entertainment, and facilities, see the links below. Program and schedule information are posted now, and online registration with secure credit card transactions is available.
If you're a publisher, software vendor, or hardware vendor, and you would like to reserve space for an exhibit at the conference, please contact John Alexander.
Some of those registering for this conference may also be interested in the Summer Publishing Institute (June 13-19, 1999), an intensive week-long seminar that will explore the new technologies transforming the publishing industry.