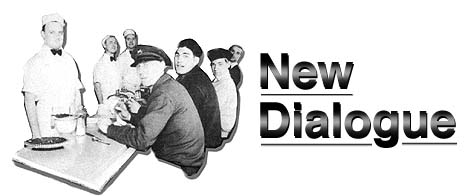 The New Dialogue has been initiated because of widespread talk of a moral decline. It is "New" because, while the traditions and lessons of the past are highly valued, the current crisis suggests new approaches are needed. It is a "Dialogue" because discussions which lead to consensus solutions must remain open and ever-expanding; provided participants listen respectfully, difference of perspective and approach keep a conversation vital. The general idea is captured in the popular bumper sticker, "A mind is like a parachute; it works best when it is open."

---
All visitors are invited to make comments. Selected comments from visitors will be included with the web site materials, and excerpts may be made a part of the Dialogue transcript. The only requirements for participation in the Dialogue are a willingness to consider carefully the ideas discussed and to respond in a respectful and cordial manner.
Below are various channels by which to enter the New Dialogue conversation. The discussion was initiated before going online by getting a groups together, including economists, ethicists, businesspersons, lawyers and doctors together to talk about the "moral" crisis. The materials are arranged so that visitors will (hopefully) not find it too difficult to join in.
The colored buttons offer different ways to begin. The green button, the "Purpose", outlines the assumptions and objectives of the dialogue. Behind the red button, "Topics", are edited and condensed versions of the conversations which got the Dialogue started. There you will find two ways to look at the Dialogue transcripts, by topics and by full manuscript. The yellow button "Our Thoughts" sets out what seems to be a major cause of the current crisis and a framework of moral norms for addressing it. The purple button opens to a glossary of "Key Concepts" which provides brief definitions of important terms and points the way to related Internet materials.
Please read the materials over and let us have any comments that you would like to share with other visitors to the site.

---
---

IATH WWW Server

Center's Home
---
Copyright 1996 by CECMPE, all rights reserved
Document URL: www2.iath.virginia.edu/cecmpe/ndialogued.html
Last Modified: Thursday, 28-Feb-2008 14:34:34 EST