November 1992
| | |
| --- | --- |
| | |
| | Texts made available by the Sixties Project, are generally copyrighted by the Author or by Viet Nam Generation, Inc., all rights reserved. These texts may be used, printed, and archived in accordance with the Fair Use provisions of U.S. Copyright law. These texts may not be archived, printed, or redistributed in any form for a fee, without the consent of the copyright holder. This notice must accompany any redistribution of the text. A few of the texts we publish are in the public domain. For information on a specific text, contact Kalí Tal. The Sixties Project, sponsored by Viet Nam Generation Inc. and the Institute of Advanced Technology in the Humanities at the University of Virginia at Charlottesville, is dedicated to using electronic resources to provide routes of collaboration and make available primary and secondary sources for researchers, students, teachers, writers and librarians interested in the 1960s. |
Why I Went to Viet Nam
For years I had no good answer for the people who asked me why I went to Vietnam. "Why didn't you go to Canada? Why didn't you go to prison? I would have killed myself before I would have gone to that war." These questions and comments were common in the 1970s, less common in the 1980s, never heard now. Of course, now I have a good and honest answer for them.
My Grandfather's photograph taken on the Philippine Islands in 1911 was well known to me when I was a child. This photograph of Homer Willson is reproduced on the cover of the Viet Nam Generation you are holding in your hands.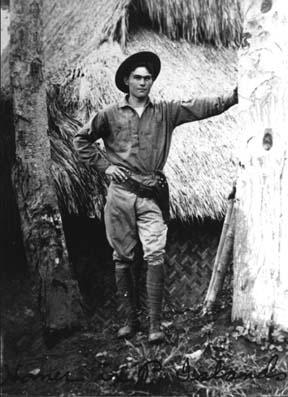 He wrote on the back, "This is the style when you go out walking in Camp Timpanan, Mind. PI. Does it look natural. See the young cannon. Nipa shack in background is headquarters."
Many other photographs of the Philippine Islands kept it company in a trunk in my grandparents' attic in Thompson Falls, Montana. His letters were in the trunk as well. I spent hours in that attic digging through Willson family treasures.
Study the photograph, read the letters and tell me how I could have considered Canada, prison or suicide alternatives to service in the US Army.
First, two quotes from: Our Islands And Their People (1899):
In many cases they [the Filipinos] are forced to give up fine fortifications because they have been outmaneuvered. Moreover, the old saying: "He who fights and runs away lives to fight another day," never had more value than with them; to stand their ground and get killed when they have the whole island, nearly as large as Illinois, to run over, would be poor tactics for a people who have no hope of expelling their invader, but who trust to the climate and nature of the country to wear their enemy out and bring them victory which they cannot achieve in open battle.'" (page 563)
Caption below a photo of Filipinos: "These people represent the lower orders and mixed races. Their squatting positions, similar to the monkey's favorite attitude, indicate no distant removal from the 'connecting link.'" (page 588)
Now, the letters:
Camp Keithley
Mindanao, P.I. April 1-10

Dear Mother

Received your letter of the 27 of Jan. about a week ago and was glad to hear from you. I also got a postal from Bert yesterday dated Feb. 3. Am sorry to hear that you have been sick and hope it won't occur again. I wrote a letter from Manila about the 15 of Feb. We arrived here on the 20 of Mar. after about 7 weeks in Manila in which we took part in the largest military samabal[sic] and manoeuvers which the U.S. ever held. We had a parade in the streets of Manila which was about 15 miles long and between 15 and 20 thousand men took part in it. All arms of the service were represented. We started at 10am and got back at 6pm and the tail end were just leaving. We passed in Review of Gov. Gen. Forbes and his staff. My company received the most applause for military bearing and etc. just as we reached the Reviewing stand the Gov. started the applause which was picked up by 20 or 30 thousand Americans and natives and continued till the next company reached the enclosure when it died out as fast as it started. A few days after we went up to Plongapo the US Naval base in the Orient and engaged in Mimic warfare for 2 weeks some moving picture firm got a photo of the parade and are exhibiting it in the states now. We are about a 1000 miles south of Manila now in the heart of the Moro country and the toughest post in the P.I.'s We are about 3000 feet above sea level and can sleep under 2 blankets and wear heavy underwear. Our post is a Regimental post and sets on top of a hill with miles of beautiful scenery every direction and surrounded by banana and coconut plantations. To the North is the famous Lake Lanao and Argus river with falls from 10 to 120 feet in height. The Spanish had 2 gun boats on the lake which is 15 by 30 miles. When the US came they sank them and left. To the east is the wonderful Sacred Mountain from which no white man ever came back. The natives worship this mountain. To the south is Pantar where a company of Scouts were massacred 2 months ago while walking along the road. On the west is Illigan bay 20 miles distant which can be plainly seen on clear days. The intervening space being large plantations employing thousands of slaves. Today is the 2 anniversary of my time. I have 9 months here yet. Manila is certainly a wonderful city with Oriental architecture the buildings hanging out over the side walk and the famous walled city surrounded by a moat which has been filled up on account of Malaria. The Pasig river flows through the center of the city. Would like to hear from the old man very well. The tropical rainy season starts here before long and then I guess we will all sprout feathers like a duck and get web-footed. There isn't anymore news so will close hoping to get a letter by the time you get this.

My Address is

Corp. Homer Willson
co L. 6th Infty.
Camp Keithley
Mindanao
P.I.
Pronounced Minda.now
Camp Keithley Mind.
Nov 29-10

Dear Mother,

Received your letter of Sept. and Oct 7--a few days ago and was very glad to hear from you. Bert wrote twice since the fire burned him out you said you sent him one of my pictures well I sent him some of each kind that I sent you and mailed them on the day that I mailed those you got. What did you have for Thanksgiving dinner? We had turkey from Kansas and sweet potatoes from the states also. I suppose the weather is pretty cold there now. It is just the same here as it was the day we landed here. You want to know where Tampanan is well it is about twenty miles from here and on the opposite side of Lake Lanao from where we are now we may go back there the fifth of Dec. This will be the last letter that I will write until the day before I leave here for the States. There is no use of answering this one as I wouldn't get it before I leave here anyway. And I don't expect to get any more here either. Never felt better in my life and had less and I hope that I will remain well until I leave here. Tell Frank that I will bring him a Bamboo Queen if he wants one as there is an over supply around here. Tell Mrs. Rice that I hope she had a good time in Helena. If you take a notion to write after you get this mail the letter to the address on the other side. Will close and write to Bert.

Homer Willson
Ft. McDowell
Casual California

Be sure and put Casual on the envelope. Tell Gordan and Granddad Hello. I won't get there until March 15, so no use to write much before that.

Merry Xmas and New Year
You ought to get this by the 10 of Jan.
4 months all told to do now. Ha. Ha.
David Willson, novelist and bibliographer, is a Contributing Editor of Viet Nam Generation, writing on REMF topics. Viet Nam Generation, Inc. published his novel, In the Army Now in 1995.