Viet Nam Generation Journal Online
Volume 3, Number 4
Viet Nam Generation: A Journal of Recent History and Contemporary Issues was founded in 1988 by Kalí Tal. It has been the journal of record in Sixties and Viet Nam war studies since its inception. The current volume is 7:3-4. Do to lack of funds and understaffing there have been no new issues of the journal produced since 1996, but we're working to rectify the situation. In the meantime, we've made these back issues available to you on-line. Hardcopy versions of this issue may be purchased from our Bookstore.
Behind the Peace Agreement in Cambodia, by Ben Kiernan
Fiction: Vietnamese Exile Writers, by Renny Christopher
Film: Mom's in Nam, by Cynthia Fuchs
Science Fiction: The Viet Nam War in British New Wave, by Alasdair Spark
A Dream of Two Wars, by Jerry Gold
They Call Me Chilly, by Dan Duffy
Age, Ethnicity, and Class in the Viet Nam War: Evidence from the Casualty File, by Brady Foust & Howard Botts
"Section formée, z'ef!" by Alan Farrell
The Rescue, by Dan A. Barker
Buffalo Bull, by Robert Lawrence Schichler
Project Jason, by Kali Tal
Breaking Ranks with the Gulf War, by Michael Marsh
Book Reviews: Jeff Danziger, Rising Like the Tucson, reviewed by Nancy Anisfield; John Balaban, Remembering Heaven's Face: A Moral Witness in Vietnam, reviewed by John Bradley; James R. Giles & J. Michael Lennon, eds., The James Jones Reader, W.D. Ehrhart, Going Back: An Ex-Marine Returns to Vietnam, W.D. Ehrhart, In the Shadow of Vietnam, 1977-1991, reviewed by Tony Williams.

| | |
| --- | --- |
| | |
| | Texts made available by the Sixties Project, are generally copyrighted by the Author or by Viet Nam Generation, Inc., all rights reserved. These texts may be used, printed, and archived in accordance with the Fair Use provisions of U.S. Copyright law. These texts may not be archived, printed, or redistributed in any form for a fee, without the consent of the copyright holder. This notice must accompany any redistribution of the text. A few of the texts we publish are in the public domain. For information on a specific text, contact Kalí Tal. The Sixties Project, sponsored by Viet Nam Generation Inc. and the Institute of Advanced Technology in the Humanities at the University of Virginia at Charlottesville, is dedicated to using electronic resources to provide routes of collaboration and make available primary and secondary sources for researchers, students, teachers, writers and librarians interested in the 1960s. |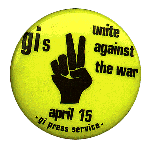 In This Issue
I spent November sick with bronchitis and flu. I couldn't write much or get on the phone. So the Announcements, Notices and Reports are slim in this issue. I didn't alert Bill Shields and William King and David DeRose and David Willson to our December deadline, so their columns aren't here. Sorry.
I did get to Alan Farrell, Renny Christopher, Alasdair Spark, Cynthia Fuchs and Tony Williams. In Features, Farrell recalls working with Montagnards, Christopher rounds up fiction in English by overseas Vietnamese, Spark brings the British into his science fiction column, and Fuchs examines Bette Midler's current war movie. Ben Kiernan&?°r of How Pol Pot Came to Power, reports on the present situation in Cambodia. Jerry Gold, vet novelist and publisher, writes about a nightmare from the Gulf War. There's a short story about a political scientist, by a newsletter editor. Tony Williams compares James Jones and W.D. Ehrhart in Book Reviews, with Nancy Anisfield on Jeff Danziger's Rising Like the Tucson and John Bradley on Remembering Heaven's Face by John Balaban.
In addition to contributions from the usual suspectss, we feature some names we think you might not have heard before. Geographers Brady Foust and Howard Botts present us with a landmark study of race, ethnicity, and class among U.S. casualties from the war in Viet Nam. Robert Lawrence Schichler contributes his short story "Buffalo Bull," "which satirizes the workings of the Selective Service Systemin particular, the ordeal of the draft physical to which the simple, bespectacled, double-sighted protagonist, BS, must submit himself." Schichler notes, "Ridiculous as it may seem at times, the account is essentially accurate, based upon personal experience." And, from Dan A. Barker's as-yet-unpublished Viet Nam war novel, we feature a chapter titled "The Rescue." Dan runs a non-profit corporation called The Home Gardening Project, in Portland, Oregon. He helps people set up raised-bed vegetable gardens. He's promised to send us the rest of his manuscript, and we hope to publish more of it. Dave Luebke donated one of his cartoons to this issue. Dave is illustrating our reprint of Asa Baber's adult fairy tale The Land of a Million Elephants (which will be mailed to our subscribers in March), and we hope to feature more of his work in the future.
Enjoy.
--Dan Duffy

Publisher's Statement
I'd like to thank all our subscribers who have hastened to mail in their renewal checks, and especially those of you who managed to scrape together a few extra dollars to contribute to Viet Nam Generation.
I do have copies of Ernie Spencer's novel, Welcome to Vietnam, Macho Man for all of you folks who renew your subscriptions. They will be following close on the heels of this issue.
Dan and I are playing catch-up these days, as we try to put out several newsletters and journal issues in quick succession. We figure we'll be back on track by the second issue of 1992. This newsletter will be followed ASAP with the final journal issue of 1991, which will contain two lengthy historical essays dealing primarily with the early phase of American involvement in the Viet Nam war. We had planned to ship the issue along with this newsletter, but Dan's illness set us back a bit (him more than me, since he's still trying to finish off his course work for last semester). At any rate, we'll have it in your hands around the end of February.
I'm hoping that in 1992 I'll have a lot more time to devote to Viet Nam Generation. Dan and I have plans to expand our marketing capacity and try to get issues of the journal into bookstores. If anyone has ideas about how to do that, we'd love to hear from them.
We do need some volunteers to edit special issues of Viet Nam Generation. If there's a subject you think we ought to cover, and you want to take on the project of soliciting articles and putting together an anthology, we'd love to hear from you. Michael Bibby proposed two issues he'd be interested in editing--one on Viet Nam war poetry, and one focusing on "The Viet Nam War and Postmodernism." Bob Brigham is working on an issue devoted to the history of the war, Viet Nam and the West. [Note: These books were not, finally, published by Viet Nam Generation, Inc.]
Since Bill Ehrhart's book of poetry, Just for Laughs, was so well received, we're going to try putting out a few more volumes of poetry. The first will be In the Grass, by poet Horace Coleman, whose work you may remember from the First Casualty Press anthology, Carrying the Darkness. In fact, that collection took its title from one of Horace's poems.
My strategy is to send copies of everything we publish to our journal and newsletter subscribers, so you'll be getting copies of Asa Baber's Land of a Million Elephants, and whatever else we print. Why? Well, because I like you folks, and also because I hope you'll find our publications worth using in your classes. (We just got another order from UCLA this week for copies of the GI Resistance issue.)
As you've no doubt noticed, we've decided to spell "Viet Nam" (the name of the country) the way the Vietnamese spell it. ("Vietnamese," I am told, is an American word. The people who live in Viet Nam call themselves Viets.) We aren't hard-line about any of this, we're just trying hard to overcome our ethnocentrism.
Best wishes for 1992. Peace.
--Kali Tal